Brittini Blog
HAPPY FALL YA'LL! :)
Tuesday, 25 October 2011 20:04
Well hello everyone!
Sorry it's been a little while since my last update.. I can't believe how fast the days have gone by! Things have been great ( and busy ) lately and I want to fill you in on everything! :) You all have seen the Aaron's commercials by now I'm guessing... well I've gotten to go perform at a bunch of the NASCAR races with Aaron's over the last few months.  I've gotten to meet so many of you, and hang with Waltrip and Reutimann and  have definitely gotten a taste of the craziness that surrounds the races... can we say FUN FUN FUN!? You NASCAR fans know how to do it! :) It's been a blast getting to sing some of my songs from my record and signing the Hero card for all of you! I also got to be silly and walk around to all the vendors... yep, that's me in the NASA suit and on the Coke-a-cola bike!
Have you seen me or gotten to meet me? Make sure you post a blog or upload a photo in my fan section and don't forget to get your free song download too!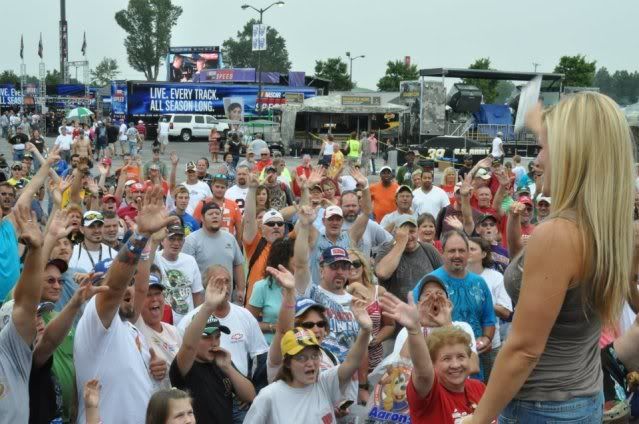 Last month, I got to open for Laura Bell Bundy here in Nashville at the Riverstage before the WK/ KU game to kick off College Football season! What a blast! Thanks to Art of the Game! LBB is so fun and super talented and it was awesome to ROCK IT OUT in Downtown Nashville! Then I got to walk across the river and sing the National Anthem at the Titans stadium to start the game!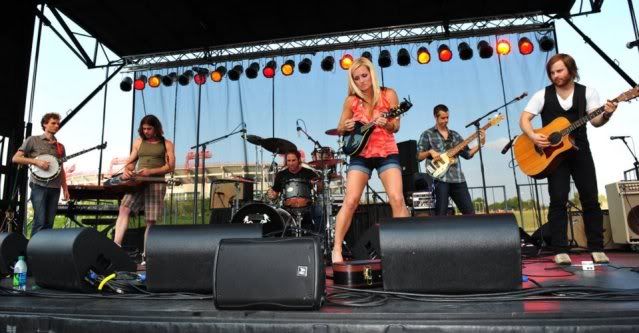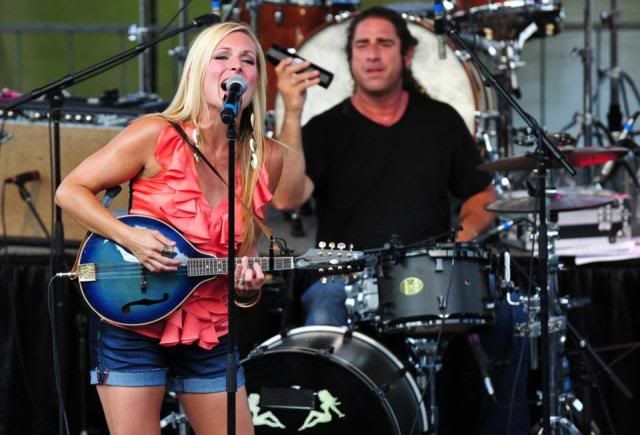 After that, I had the priveledge to go to DC with Americas Adopt a Soldier and my whole band and perform at the Annual Policemans Ball. They celebrated 70 years! That was a special evening... a room full of heroes and their families! I had a great time being there and honoring them... and from all the dancing, I think they had a great time too :) I believe there was a conga line at some point!!
The same week after returning from DC, I got asked to go to Atlanta and sing at a special awards dinner for Charlie Loudermilk, the founder of Aarons. He was being honored for all of the ways he has helped Atlanta and the people living there... Aarons began with a few chairs being rented out to folks.. and now it's a huge company that does as much giving back as it is successful. It was so fun to be there! Sandra Lee (who wrote the Aaron's jingle) also wrote a special song for Charlie and we sang it that night... he loved it and people honored him with a standing ovation after the song was done. Congrats Charlie!
Well, Hope you have all enjoyed the fall so far... I've got a lot of fun things coming up that I'm so excited about... I get to sing the Anthem at the Breeders Cup  and I also have a big industry showcase at 3rd and Lindsley on November 14th! If you're in Nashville, come on out!
Also hope your Halloween is scary, spooky and safe! I love Halloween... but not sure what I'm gonna be yet... hmmmm. Maybe I'll be a NASCAR FAN like these adorable kids I met at Talladega this past weekend... look at that paint job! What you couldn't see is that the little boy had what looked like tire tracks on his hair.. SHAKE AND BAKE!! :)
Blessings,
Brittini
Rocked the CMA Fest!
Wednesday, 29 June 2011 14:58
Hey Everyone! Hope you have all been wonderful and enjoying the SUMMER!! WHOO HOO! I love me some hot weather!
Things have been good and busy lately with me... for me loving the pool and summer so much can you believe I have yet to put on a bathing suit?! I know I'm so sad!! Hopefully this weeked finally I can remedy that little problem! :) Which brings me to HAPPY 4th of JULY EVERYBODY!!!
I've had some great shows lately, been writing a lot and just got done with CMA Fest week!
That is always one of the highlights of the whole year. The country fans are the GREATEST.. standing in loooong lines, singing every word, battling the heat and being so supportive! It was so fun to have a chance to chat with you all and  take photos at the GAC booth and have such initmate performances at the Brigestone Arena and Cadillac Ranch! Here are a few fun photos!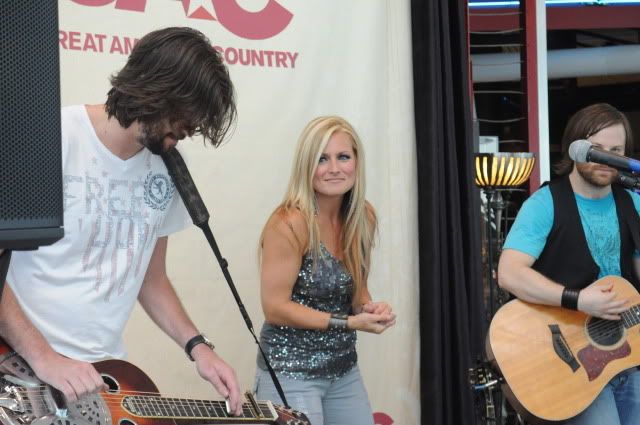 I also got to go to the always FUN FUN FUN CMT Awards! That was such a great night of performances! So many artists impressed me.. like Band Perry! Go girl ( and guys ) ha! And Justin Bieber was in da house... Rascal Flatts said they have Bieber Fever! haha!
I am waiting on photos from the GAC Booth.. will post asap! That was so much fun and THANKS GAC for letting me share some signing time with Chuck Wicks! I have a feeling the line was a little longer cause of him! lol!
I hope you all have a wonderful, safe, THANKFUL 4th of July this weekend! Remember that we are so blessed to live in this country!! Thank you to all that are serving, have served or have family members who have! We know that freedom is not free and we are proud to live in America!
Blessings,
Brittini
Nobody Beats Orlando...Nobody! :)
Friday, 18 March 2011 01:55
Hey Everyone! Hope you are all enjoying SPRING!! We've finally gotten a little nice weather in Nashville. I'm scared to say much about it cause I'm afraid it will go away but hopefully it's here to stay!!
In just a couple days I'm off to Orlando, FL with my band to perform at the yearly Aaron's Managers Meeting. It's going to be so awesome!! I get to sing the Canadian and US National Anthems, the Aaron's jingle and a whole set of BB songs! WHOO HOO! :) I sang at the meeting last March but that was before I was working with Aaron's in other capacities... now that I'm in the commercials and stuff, I'm sure it will be a bit different... Even more fun and more exciting!! I'll be sure to post pictures from the week and keep you up on all the goings-on!
Hope you are all enjoying the commercials.. I love hearing from everyone when they see it! It's really awesome to hear all of the different cities and channels you are seeing it on! Got the song stuck in your head yet?! LOL!
Hope you all have a FUN and SAFE St. Pattys Day! Drink something green for me! Can Diet Dr Pepper be turned green? Hmm... doesn't sound too good, but I bet it'd still taste yummy! My fav!
Blessings!
Brittini
YAY for 2011!
Wednesday, 02 February 2011 21:49
So wow, it was a crazy busy but awesome and blessed 2010! I got to do some pretty fun things last year! One of them that many of you have probably seen already... I am in all of the new Aaron's commercials! :) TV, Radio and print! All 3 versions of the song are playing EVERYWHERE!! I've had people from almost every state say that they've seen me on TV lots of times a day! The funniest thing is that I have yet to see one! Guess the person involved is the last to see sometimes... which actually might be good.. The last thing I want is to be sweaty and lookin crazy at the gym and see myself on tv! Even I'd be like, is that me?! HAHA! I am thrilled about how the commercials turned out and hope you all like them! If you like 'em enough you might just go rent you a couch or fridge or something! hehe! Take a look at this awesome behind the scenes "Making of the Commercials" video that Aaron's put together. Pretty dang cool.
>
I am looking forward to all of the things this year holds. I'm gearing up for a bunch of shows with Aaron's and America's Adopt a Soldier and also working on some fair and festival dates. I hope they work out in the schedule. I'd love to see more of you across the country!
As always thank you for all of your encouraging comments and support! You ALL ROCK! Be back with more soon....Can you believe it's already February??! Holy moly time flies when you're having fun!
Blessings !
Brittini
Noobody Does it Better than Aaron's...Nobody!
Tuesday, 24 August 2010 02:12
Hello Everyone! Happy August! I can't believe it's already August... so crazy!
I hope you all had a wonderful summer like I did! Now it's back to school and getting ready for the awesome Fall weather!
I had an AMAZING July! First of all, I got invited to perform at the Midnite Jamboree by Hall of  Fame member, Charlie Mccoy! He's honestly one of the most incredible harmonica players in the world... and such a humble, friendly person! I had such a great time! The Midnite Jamboree is the 2nd longest running radio show in history! Here are a couple photos from that fun evening!
My other fun BIG news is that I am officially the new "Aaron's girl"!! Aaron's Rents is a great company - a lease to own store- and there are 1700 stores across the country. I am singing their new jingle "Nobody Beats Aaron's.. Nobody!" written by the marvelous Sandra Lee.
3 weeks ago we got together at Sound Stage studios in Nashville with the world-famous engineer Chuck Ainlay, the best musicians in Nashville, and a great team from Aaron's and camera crew and recorded the jingle! The cool thing about the jingle is it's actually a full song and there are 3 versions of it - yes 3 totally different versions! One is country, one is pop/urban and one is IN SPANISH! :) They came out so great and it was such an amazing week - FUN, productive, easy, and such a POSITIVE experience! Here's a couple pics of me recording my vocals and one with Chuck Ainlay and Jim Cooley (who is just as talented and amazing) and Katie from Aarons!
Then one week later I got to go to Atlanta and have a FUN-FILLED week of shooting the commercials for the jingle! What a great time! The first day, I got to bring my band and we shot a bunch of "concert" footage at the gorgeous Buckhead Theatre. They had audience members there ( thanks extras!!) to stand at the foot of the stage to make the place look packed and we rocked out all 3 versions of the song on stage. Even Lucky Dog came on stage and jammed out with us! :)  Here is a cool pic from the stage and then a funny one of me getting ready... lotion is necessary people! LOL!!!!
After the inside shots we got to shoot some footage outside of the Buckhead Theatre... they put my face on the marquee and the band and I got to act like we were putting on a street show! It was awesome!!
We did more days of shooting but I don't have the photos yet... as soon as I get them I'll post a few... it was such a cool week and I can't wait for you guys to hear the song and see the commercials! They will run nationally so no matter where you are, you will probably hear the song on the radio or see the commercials on tv!
Have a wonderful rest of the week everyone.... remember WITH FAITH, ANYTHING IS POSSIBLE.
Blessings!
Brittini
Page 1 of 5